WELCOME TO ARTIST AJI'S ART GALLERY
Birth Of A New Drawing Artist
I have started drawing after 2020/06/2 because the idea generated to do this drawing works after my major surgery. At that time I was living in a room and no one can come to visit because o the infection problems. To avoid this loneliness, I think to do anything, what I can. So I started to draw the pictures.
Drawings Of Jasnya JayadeeshJasnya is the Award winner of Amritha Super Dance Junior season 1 . She is also my friend . I Given This art to Her own hand ..
Used Colour Pencil is Faber castell and Size of the art is A3 . finish between 4 to 5 days ..
Color Pencil Drawings Of Chiyaan Vikram From The Movie of I …
Size Of Pencil The art is A2 . Used Pencil is Faber Castell Coloured Pencil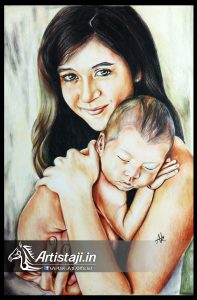 Color pencil drawings of Baby with mother ,This is not a work I got the reference google . so i decided to draw with big size..
Starting Stage Of Drawings
At the beginning stages of my drawings it is very difficult to draw the portraits promptly. I have no ideas, how to draw a portrait. So I think to draw an eye at first. It was very hard to draw an eye, with never destroy the beauty of it. After my continues practices, I can do my levels best. and also I Practised to draw a portrait in full.
Difficulties On The Drawing
After the completion of portrait, it was my next problem to give the suitable shades for it. At the first time of shading, it was too boring to see the portraits. But my strong believes never allow me to do the worst. After the long practice, I could do the best.
---
Starting Of Regular Drawing
After the successful exhibition at KIMS, I started my regular drawing field.
Presentation Of Drawing Through Facebook Account
In the 21st century Facebook plays a vital role in the world. So I created an account named by 'Aji Kumar'. I posted the drawings in their.
Responds And Comments
The drawings, which I posted in the facebook got lots of comments. Most of the comments are very badly and the people criticise very badly. But some of them like the drawings and point out my mistakes. It was very helpful for me to find out my mistakes.